Dual View X-ray Baggage Scanner HP-SE6040D 7-Colors Detector with 2*Dual Energy and High-Quality Imaging to Find Explosives
---
Safeagle Dual View X-ray Baggage Scanner with 2 X-ray Generators can scan and image objects from both horizontal and vertical angles at the same time, avoiding missed inspections caused by overlapping and occlusion of objects., solutions, and the services perfectly meet the most demanding potential threat inspection needs at border crossings, railway stations, shopping malls, hotels, government and military installations and high-risk facilities all over the world.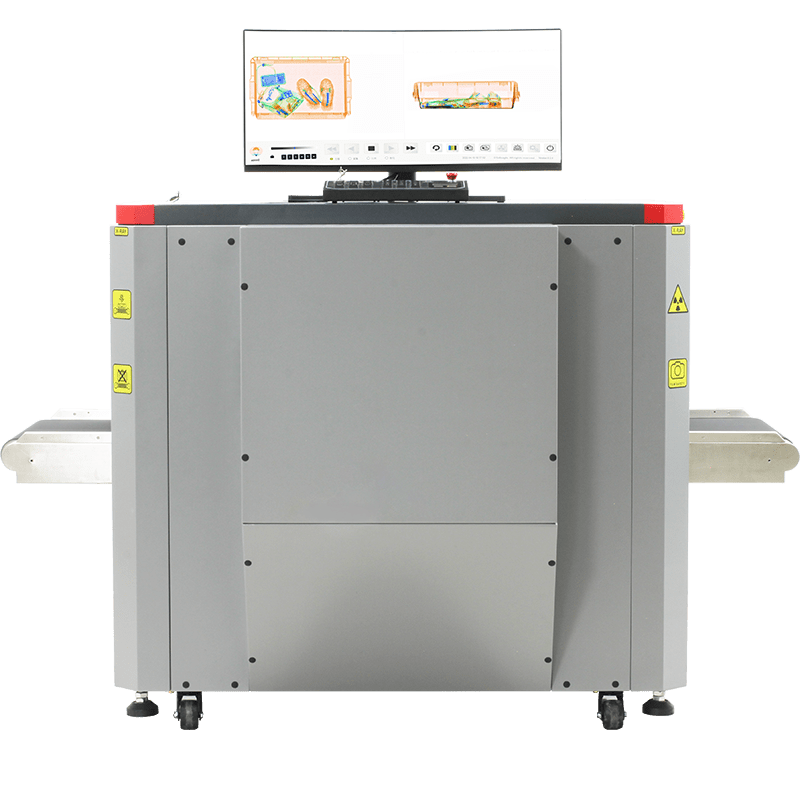 KEY FEATURES
Adopting a dual-energy detection system

Switchable 4/7 Color Imaging

Best Wire & Spatial Resolution

Higher Throughput

Networking & Remote Viewing
DUAL-VIEW X-RAY SCREENING TECHNOLOGY
The scanner provides two high-quality dual-view images shot from different angles (horizontal and vertical), in order to find concealed dangerous and illegal objects. The display model can be Dual-vertical&Dual-horizontal.
Combine with the Zeff-scan function to auto-highlighting the potential threat of explosive and narcotic (liquid or solid) on x-ray image in real-time during the scanning process according to the characteristics range of explosives and narcotics atomic number, which help to identify the suspicious more effectively.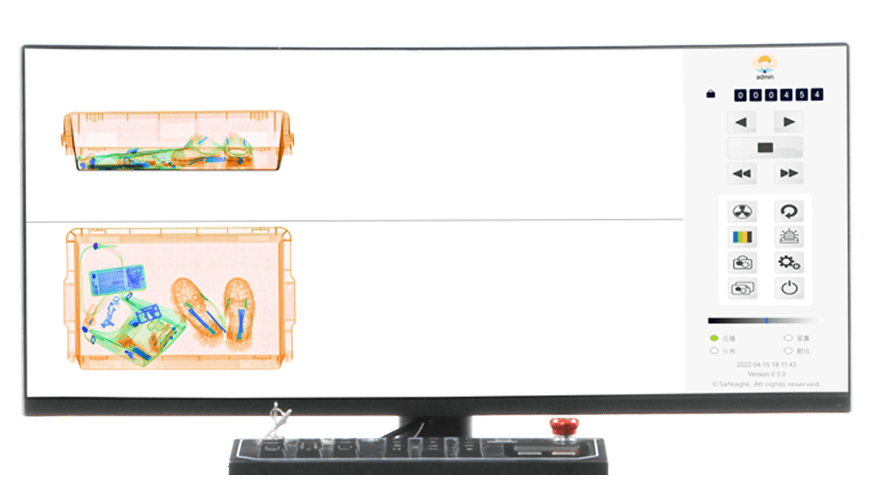 VERSATILE SOFTWARE WITH 30 IMAGING PROCESSING TOOLS
● With over 30 imaging processing tools and detection alert algorithm functions;
● Multiple access level account with different operation privileges according to the status hierarchy;
● Backed by a team of rich experts, support customized function modules according to clients' requirements;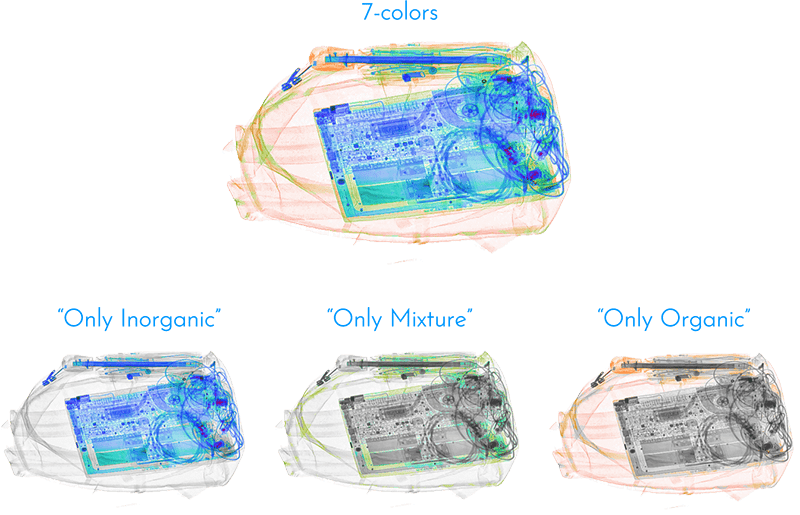 GENERAL SPECIFICATION
GENERAL SPECIFICATION

WORKING ENVIRONMENT

Tunnel Size:

624(W)x 429(H)mm [24.5x24.7 in.]

Operating Temperature:

0°C- 40°C \ 32ºF - 104°F

Belt Speed:

0.23m/s (45ft/min) Forward

Storage Temperature:

-20°C- 60°C \ -4ºF- 140ºF

Conveyor Load:

165kg (363 lb.) Evenly Distributed

Humidity:

Up to 95% Non-Condensing

Conveyor Height:

750mm (29.5 in.)

Power Requirements:

220VAC±10%, 50/60Hz, 10A Max

Noise:

<45DB

Operating Temperature:

0°C- 40°C \ 32ºF - 104°F

X-RAY GENERATOR

COMPUTER

Voltage:

140kV*2

Processor:

Intel® Core™ i5-6400 Processor

Wire Detectability:

40 AWG

Graphics Card

GT730K 2G/D5

Spatial Resolution:

1.0 mm Horizontal, 1.0 mm Vertical

Memory:

4 GB RAM

Steel Penetration:

36 mm steel Typical

Storage:

256 SSD

Tube Current:

0.7 mA

Platform:

Windows® OS

Cooling:

Sealed Oil Bath with Forced Air

Display Type:

34" Curved-display

Duty Cycle:

100%, No Warm-Up Procedure Required

Display Resolution:

3440 x 1440; 24 bit/Pixel Color

Beam Direction:

Upward and Sideward

Image Arching:

2,00,000 images

Detector:

1024 Channels in an L-Shaped Array

HEALTH AND SAFETY

Dual-energy:

Yes

•Compliant with National Radiation Safety Standards for Cabinet X-Ray Systems.

Generate Angel:

80º

•Typical Radiation leakage is less than 0.1 mR/hr(1.0 μSv/hr)

•Film Safety: Guarantee ISO 1600 (33 DIN)
---
Safeagle - Dual View X-ray Baggage Scanner HP-SE6040D 7-Colors Detector